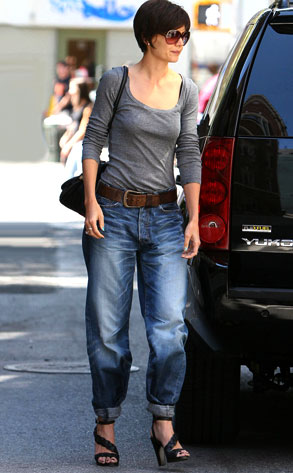 INFphoto.com
• Ticket sales for Katie Holmes' new Broadway show are "definitely off from what the production hoped," even after her parade of bizarre denim. Maybe everyone forgot about Joey Potter's rousing stage performances.
• The Brangelina twins on the cover of People is the mag's fourth-highest seller, right after special issues about the deaths of Princess Di, John F. Kennedy Jr. and events of 9/11. Meaning it is the No. 1 issue of happy, magical news.
• Michael Phelps is living the life of a star now—you know, making out with hot girls and writing memoirs.
• If you'd like to re-create the Gwen Stefani birthing experience for yourself, the second-most important thing to do after thinking of a really weird name that will make blogs everywhere go "huh?" is picking up your own birthing gown/sundress in a pinch at BYOG.