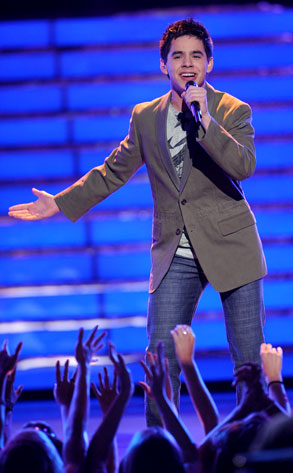 FOX
David Cook topped David Archuleta in their American Idol showdown, but now the little D has gotten some extra-large revenge.
The 17-year-old Archuleta's "Crush" has debuted at No. 2 on the Hot 100 singles chart, besting the No. 3 opening of Cook's "The Time of My Life" in June.
In fact, Archuleta just netted the biggest bow since Fall Out Boy's "This Ain't a Scene, It's an Arms Race" also debuted at No. 2 back in January 2007.
Archuleta is the first runner-up to outperform the reigning champ since the head-to-head match-up between Clay Aiken's "This Is the Night" and season two victor Ruben Studdard's "Flying Without Wings." Aiken topped Studdard with what became the best-selling single of 2003.