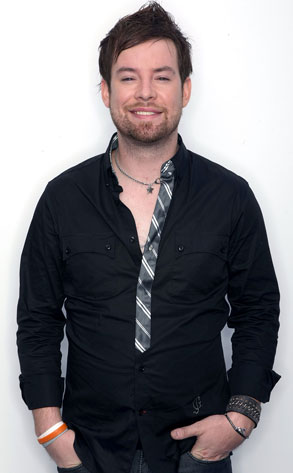 F Micelotta/TCA 2008/Getty Images for Fox
David Cook ain't a first timer when it comes to tats—the Idol winner's already got a splattering of body doodlings, including a gray cancer ribbon on his chest for his sick bro, Adam. So sweet—maybe this Idol David is the more goody-two shoes after all? We would not be surprised at all to discover Archuleta with a skull 'n' crossbones tat secretly stuffed somewhere we can't see.
So if D.C. knows how to do tats right, what the ef's up with his newest addition—a single-eye inked on his right wrist. Is this alleged ladylove Kimberly Caldwell's glossy iris? Must be. I actually think it's hot, as this guy just reeks of what you're not supposed to do, like put your girl's pupils on your veins. Could this also be a drag-queen distortion of an evil eye, all makeup'd up? Or maybe it's additionally Davey-babe's own cornea, eyelined to death while rockin' out onstage?
Dude surely coulda found a random Chinese character or some other cliché hanging on the walls of the tattoo shop to slap on his skin, so bonus points for originality, right? Then again, beauty is in the eye of the very painful beholder, so what do you think of Cooksie's stink eye?