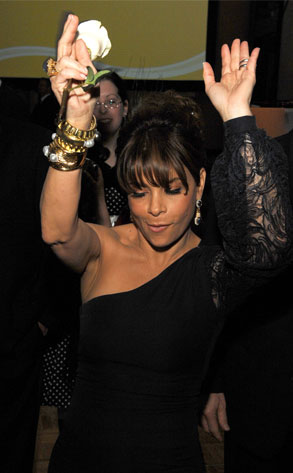 Dimitrios Kambouris/WireImage.com
Last week, Paula Abdul debuted the video for her new song, her first single in more than a decade. Has anyone else been able to revive a singing career after such an extended absence?
—Christopher, Lake Worth, Florida
You're not giving Paula enough credit. She's not only singing and dancing, she's also speaking in full sentences and remaining generally upright during public appearances. I also applaud her ability to mimic Britney tunes without some slick producer named Peril or Nightmare or whatever. For the record, the new single "Dance Like There's No Tomorrow" is doing decent business on iTunes. Last time I checked, it was clocking in at around number 17—somewhere between Lupe Fiasco and Soulja Boy.
And if you haven't seen this video, behold.
Even a middling showing like that is tough to pull off after such a long respite, experts tell me. Tina Turner, who is credited with one of the most miraculous comebacks in music history, had taken only a five-year break before releasing Private Dancer in 1984. Madonna's much ballyhooed minicomeback engineered by Ray of Light came after only a four-year hiatus, unless you count her songs from Evita. And I'm not.
Fiona Apple put six years between When the Pawn... and Extraordinary Machine.
That isn't to say Paula can't come back after 12 years. Her age certainly isn't a factor, as I will refer you to Janet Jackson's ongoing popularity with the kiddies. And the Black Crowes, who haven't released a new music collection in seven years, just released a fresh album that is getting plenty of attention, at least from the faux-jaded mandarins over at Rolling Stone. In fact, Paula has a distinct advantage: American Idol, of course, and its shrieking chorus of 11-year-old disciples.
"She is lucky enough that she has a megaphone to use to speak to people," one top Industry follower explains.
Even with that boost, she'll have to prove she can crank out at least two or three more hit singles before anyone will call her a comeback queen.
"Pop is such a hit-driven, single-driven field," my expert says. "If you don't get with the right production team or have a really good track, it's hard...People will say, 'If that track isn't hot, so-and-so is over.' "