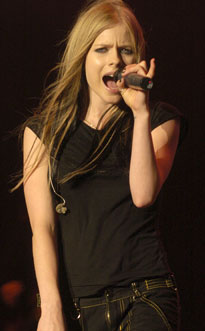 Kevin Mazur/WireImage.com
If Malaysian officials' logic holds, Avril Lavigne is sexier than Gwen Stefani and the Pussycat Dolls and just as potentially morally corrupting as Beyoncé.
The Canadian faux-punkette has become the latest Western pop star to face trouble in the Asian country as she was uninvited from performing a planned Kuala Lumpur gig. The Muslim-majority country's Arts, Culture and Heritage Ministry canceled the show today amid growing protests and claims the singer was, quite simply, "too sexy."
While that, of course, is entirely subjective, the timing of the planned gig, just two days before the nation's Independence Day on Aug. 29, was not, and, per a senior Ministry official, was the real reason for the cancellation.