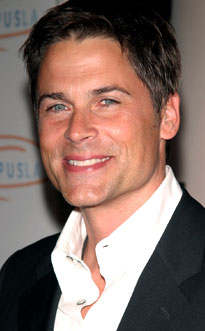 Michael Papo/ZUMAPress.com
Apparently not all of Rob and Sheryl Lowe's employees have soured on the couple.
One of the former nannies who they sued for breach of contract and is now suing them for sexual harassment wasn't exactly a model of innocence herself, according to several declarations filed Thursday in Santa Barbara Superior Court, including one provided by the plaintiff's sister.
James Maclear, a chef who worked for the family in 2005 while they were living in London (and is not to be confused with the chef whom the Lowes previously sued), stated in court documents obtained by TMZ.com that the babysitter in question, Jessica Gibson, "had an overly flirtatious manner and appeared to be somewhat of a sexual predator."