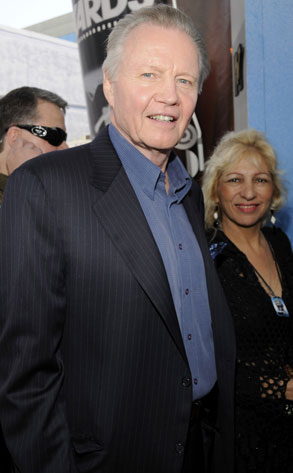 Kevin Mazur/WireImage.com
• Jon Voight and Roseanne Barr are worse than Rosie O'Donnell and Donald Trump. J.Vo responded to R.Bo's angry blog post by calling her "sick of the mind." Either settle this with a reality show or please just stop, OK?
• Sienna Miller and Balthazar Getty's tour de PDA continued today before she peaced out of L.A. Now the paparazzi can get back to following real stars.
• This one goes out to all you who ever wondered what Michael Phelps looks like with clothes on. Also, he's not dating fellow swimmer/Playboy model Amanda Beard.
• Brad Pitt and Jennifer Aniston both have films premiering at the Toronto Film Festival, and Us Weekly is super excited that they could reunite. Will all of their wildest fan fiction fantasies come true?
• The Jonas Brothers have decided not to endorse a presidential candidate. Watch out guys, Roseanne's going to blog-attack you next.