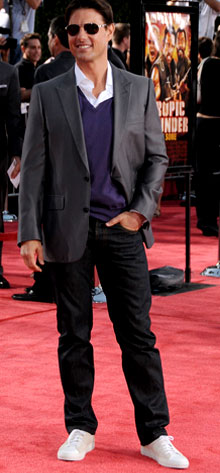 Gregg DeGuire / Getty Images
Tom Cruise has finally got folks laughing with him, not at him. For two secs, at least. And all it took was some arm hair, a bald cap and a gut.
Make that guts. Who knew T.C. was secure enough to finally make fun of himself in such an unsightly getup? And if he can do it and get away with it, why can't anyone else? So sorry if we whittle away some of the accolades Tommy's getting for the role, but looks like he didn't create the look and personality of his Les Grossman Tropic Thunder character all on his own.
Says an ex-employee of Ben Stiller's Red Hour production office in Hell-Ay, Cruise-boy's studio hothead was based off of Stiller's producing partner of 10 years, Stuart Cornfeld. S.C. has got quite the coif (on his arms, that is, and none on his dome) and is infamously fond of shouting out four letter words, exactly like the movie's mad H'wood man.
In the original draft of the script, says our source, the money-grubbin' Grossman goes deep into the jungle himself and ends up being tortured. Quite a rewrite from the current flick's dancetastic finale. Guess Stu wasn't too fond of his onscreen persona kickin' the bucket for a cheap laugh.
So sensitive, this crowd.