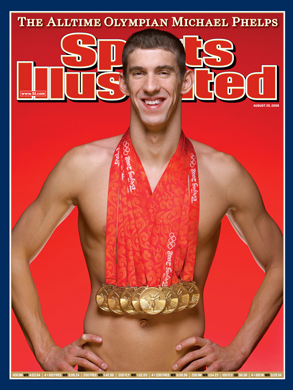 Simon Bruty/Sports Illustrated
Michael Phelps is one proud young man and rightfully so. The 23-year-old graces the cover of the upcoming issue of Sports Illustrated, showing off his toned bod and those eight Olympic gold medals he scored in Beijing.
And given the super swimmer's newfound star power, ladies all over the world are aching to know about more than just his sporting stats.
Rumored to be dating either fellow breaststroking babe Amanda Beard or model Lily Donaldson, Michael stays mum when questioned about the issue.
"My private life is my private life. I have to keep something private. You guys know everything else," the Olympian tells Ryan Seacrest on his KIIS-FM show.