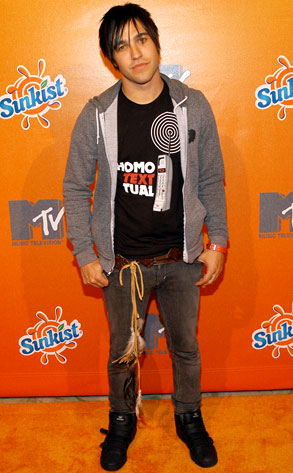 Jody Cortes / WENN
We caught a spectacular view, dolls, of Hell-Ay from atop the brand-spankin'-new London hotel on the Sunset Strip, where Pete Wentz was deejaying a special MTV and Sunkist event.
P.W. strolled up to the rooftop pool party sans his new Simpson-Wentz wife-unit. Is Ash finally too pregs to party? Maybe she's learning some lessons from pal Nicole Richie on seriously settling down and nixing any nightlife. (Until your kid's old enough to watch itself, 'course, what is that nowadays, 6 months old?)
A handful of Fall Out Boy followers managed to finagle their way into the fete, and the eyelined babes snapped photos of the bassist, perched up on a balcony so no one could get an inch near him, all through his set. Didn't seem like Petey-pie had too many other fans in the place, since nobody was dancing to what the DJ was playin'.
Not one of the Kardashian sistahs there even boogied down. Instead Kim, Khloe and Kourtney spent most of the soiree holed up in the VIP section, unsurprisingly. In fact, more people were waiting in line to play Rock Band than the event organizers had set up for.
We dug the dude mixing hip-hop with '80s pop, like combining Jay-Z's "99 Problems" with Nena's "99 Luftballoons," but other party people were much harder to please. "He should have gotten here earlier," said one pissed P-fan. "He's playing the same songs the first DJ already played!"
Way to unwork the crowd, Wentzy. We know you've got blogging down to an art form, how about working on punctuality next? You getting Simpson-ized there, sweets?