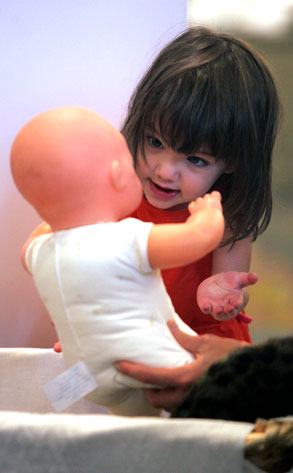 James Devaney/Getty Images
That's the caption that user killedbyllamas came up with to describe über-cute Suri Cruise as she appeared to carry on a conversation with a doll at the Bonpoint children's boutique in New York City.
But there were so many worthy snarks and cute riffs that we wanted to share a few more:
Liz: "You had me at hello!"
Collslee: "Between you, and mom and dad, you seem very real and down-to-earth."
Julie: "Hey! I'm the doll here, see."
Chris: "Listen, here's the deal, I will stay here and you go with the nice robot lady pinching your butt. OK?"
tina_dap: "Stick with me kid and you'll go places!"
Buck McGuck: "You can't handle the twoof!"
culbert123: "I'm serious! Tom Cruise is my dad."