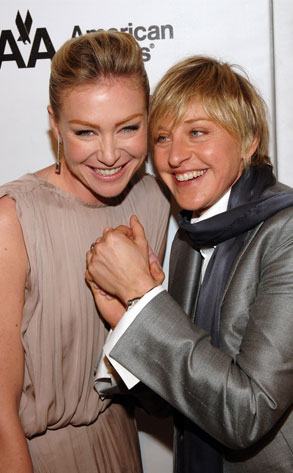 Jamie McCarthy/WireImage.com
• Ellen DeGeneres and Portia de Rossi are set to wed tomorrow in front of 20 close friends. Portia will be wearing a "flowing, formfitting dress by Zac Posen,"and we all know what Ellen will be wearing. Can't wait to see the pics in some celeb mag next week!
• Amy Winehouse has returned to the streets and nightmares of British people everywhere. And yes, she's still playing the slap game, so be on the lookout and remember if you slap her first, you get the point.
• Next time you run into Kanye West at California Pizza Kitchen, please have the decency to ask him for his autograph on your napkin, not your pizza box.
• Rumer Willis says kids in school used to call her "Rumer, Rumer with a big hairy tumor." Now we kinda feel like a-holes for giving her such a hard time.
• We finally see why Lindsay is attracted to SamRo—she's a cutie!