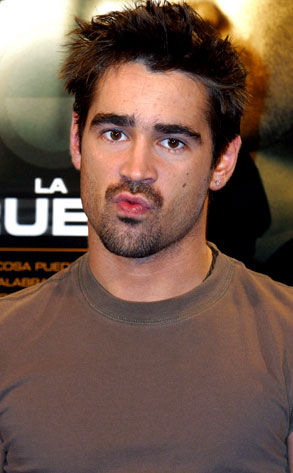 Most Wanted /ZUMAPress.com
Once a month A.T.'s fab Becky Bain gets together with some of her movie-lovin' cine pals to catch a classic flick from the comfort of one of their funky living rooms. This time around, B & Co. chose Tootsie, to honor the late, great Sydney Pollack, who directed and costarred in the gender-bending pic.
But B-buds' memorializing movie night was almost tarnished by Colin Farrell. Ain't kiddin' here.
Let's back up. At the Blockbuster at Hollywood Boulevard and Western Avenue (so not B's part of town, but her compadres kidnapped her to this supposedly hip Hell-Ay environ), they all searched the racks for the flick, to no avail. So they diva-demanded to know why this B-buster was without the pivotal '80s pic. The guy behind the counter proceeded to tattle to B's band that the infamous Irish actor himself had come in at the end of June to pick up Tootsie and Coffee and Cigarettes (two pics that couldn't be more different). Right after renting, C.F. said, so claims the same employee he spoke to, "I probably won't bring these back, you know."
And off he went. True to C.F.'s word, it's almost September and that H'wood vid store is still sans either cinematic work.
Is Far-hon researching for some sort cross-dressing role and using Dustin Hoffman as his muse? Or maybe he's selfishly keeping Tootsie all to himself? And now that C's played bisexual on film, is playing a transvestite the next stop? Worked pretty well for Oscar-nom-nabber Felicity Huffman in Transamerica, eh? Or most likely, this bad boy is just too damn lazy to return rentals like the rest of us.
Thanks for ruining Becks' evening of drag-queen comedy, Colin. There's a thing called Netflix. Try it. A rep for Farrell would only say that her client has been out of the country filming, nothing more. What, they don't make planes anymore?