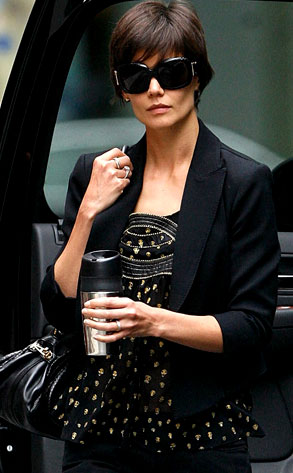 INFphoto.com
Dear Ted:
Is it just me or is Katie Holmes channeling Princess Di? The weight loss, the hair, the clothes...and the way she poses for pics is almost identical.
—Bogie
Dear Royal Pain:
Princess Fergie during her Weight Watchers days is more like. Classy, this tale is not.
Dear Ted:
Crotch Uh-Lastic from One Draw-Strung-Out Blind Vice has to be Ryan Gosling. Rachel McAdams is all of a sudden around again; he's brooding and a little crusty. He's up and coming—sounds like Mr. Gosling to me!
—HTC
Dear Det. Crust:
Excellent guess there, babes, just not the right comer. Precise on everything else, though, right down to the doable dimples.
Dear Ted:
Is Crotch Uh-Lastic Ryan Phillippe?
—Kat, York, Pa.
Dear Reese:
What's with the fake name and address? You know it's not Ry-Ry! He was always so much more discreet!