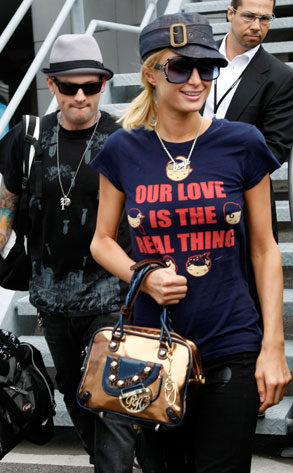 FAME PICTURES
There are web rumblings of a split betwixt Par-babe and Benji, so not surprising. We've known of this inevitability ever since this May-Decemblah romance began. A repotted rambling rose is a rose is a rose, so to speak, and Paris will remain the spoiled, senseless brat we love and loathe for years to come.
In fact, only thing we're raising an unwaxed eyebrow at is the site where the wrecked romance rumors began: Techcrunch.com, a geek-kinda site that profiles Internet products and companies, not spoiled socialites. So this ain't exactly a hip H'wood dot-com trying to pump itself up with press by selling a juicy celeb story. Then again, if moral-frisky Vanity Fair is just as guilty as the rest of us, could be that everyone's in on the goss game nowadays.
So says Techcrunch, P.H. has set her Bel Air blues another wholly inappropriate candidate for love. Hell, when has she chosen wisely? Rick Solomon? Oh, yeah. The babes Paris met in the big house probably would have been better for love hookups, in the long run (had she been so inclined), but that's just bitchy moi blabbin'.
Apparently, Paris' latest object of obsession has thrown some happening Hamptons soirees, at which Hilt-hon's been seen. Um, Techcrunch cronies, hope you're basing your info off more than that. What Hamptons happening hasn't Princess P RSVP'd to?
In the meantime, we're anxiously awaiting Hilton's blog post about bouncing from Benj.