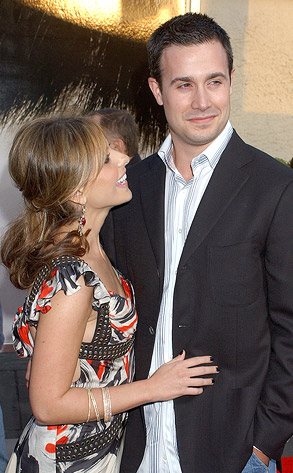 Gregg DeGuire/WireImage.com
No one's talking about this, and we want to know why:
Firstly, it ain't easy being the hub-unit to a more successful spouse, especially when that dynamic's escalated times ten in the public eye. Freddie Prinze Jr. already had enough to deal with having a famous father, but horror-genre gem and bitch-about-town Sarah Michelle Gellar is a hard act to follow, fer sure.
So how's Mr. Gellar keepin' busy? As was announced recently, he's climbed onboard the creative team for World Wrestling Entertainment. You read that right. That means Fred will help pen all the pumped-up storylines for WWE's wrestling matches aired on television. Prinzie is a longtime wrestling aficionado, so we're hoping this is a fantasy camp kinda sitch and not a permanent career switch.
Then again—when's the last time the guy's had an acting gig? F.P. Jr. hasn't had a relevant role since Scooby-Doo...if that's even considered substantial cinema. Sure, he had his own TV show, Freddie, which lasted a season, but who hasn't nowadays? Margo Casablanca's sitcom is about to be greenlighted, we assure you.
Has having Buffy as his bride become so much competition that the dude's decided not even to try anymore? Well...