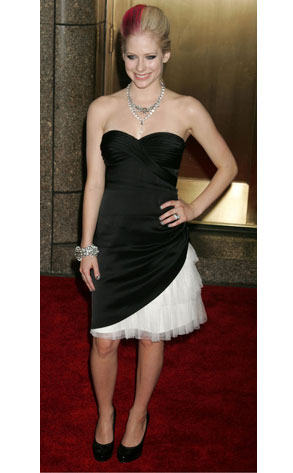 Nancy Kaszerman/ZUMApress.com
If there's one thing I hate, it's a beautiful rich thin woman who just isn't satisfied with being world-famous and talented and awesome. Nope, some of those rare jewels feel the need to express themselves further by creating a fashion line! Just kidding, I love the stars who think that being an actress or musician qualifies them to design clothing. Promise! I'll keep my reservations on the actual quality of design to myself – though I will concede that JLo lingerie can be sexy.
And what Canadian mega-celeb is launching her own line? Earlier this year, Canadian fashionista (?) Avril Lavigne announced she would be launching her own label, Abbey Dawn, in July, but we have yet to see the fruits of her toil—they're currently only available in the US. It's rumoured that the line will be available to Canucks in November. We're counting the days. Seriously.
It's not just ladies, either. P Diddy and Jay-Z were definitely at the forefront of this trend, revealing clothing lines eons ago. I am all for celeb styles – as long as they're good. But would the stars themselves even be caught in their own clothing? This blogger thinks not. I bet Gwen is rarely decked in LAMB when not doing media. But that's just my opinion. Take a look at our Celeb Fashion Line gallery and tell us which designers you think are justified in letting their clothing loose on us. Lauren Conrad is actually the most qualified to design clothes. "I've always wanted to be an artist and designer," said Lauren in the September issue of Cosmogirl.