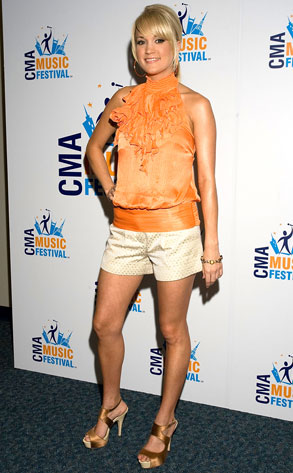 Frederick Breedon/WireImage.com
• Carrie Underwood taunts Jessica Simpson by telling Allure that Tony Romo sometimes calls her up: "The phone will ring and it'll be him, and I'll maybe not answer." Country catfight!
• Have Jennifer Aniston and John Mayer called it quits? Would anyone be surprised if they did?
• Diddy proudly declares he would totally win a gold medal if there were a sport called "who could have sex the longest."
• Selena Gomez made a very long YouTube commercial urging everyone to buy the new Jonas Brothers CD. We're not going to make you watch it, because we value your readership.
• Amy Winehouse is the No. 1 celebrity haunting the sleep of the nice people over in Britain.
• Rachel Bilson debuts a new pair of fug shoes. If she steps this up to a daily thing, she could replace our Katie Holmes jean obsession.