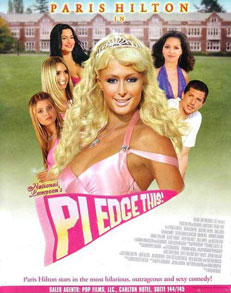 Vivendi Visual Entertainment
Paris Hilton is in trouble for supposedly not doing enough to make National Lampoon's Pledge This! sound hot.
Not concerning itself with what a daunting task that was, the film's distributor, Florida-based Worldwide Entertainment Group, sued the heiress Tuesday for breach of contract, charging that she didn't come through after being paid $1 million to star in and promote the 2006 comedy.
Oh, she starred in it alright, playing sorority queen Victoria English. But, per the lawsuit filed today in U.S. District Court in Miami, Hilton—who was also listed as an executive producer—owes $75,000 in damages for failing to provide "reasonable promotion and publicity" for the movie.
The straight-to-DVD Pledge This! came out in December 2006, with Hilton's mug plastered across the cover, indicating that she was a major part of the film. And, if memory serves, the presidential candidate and star of the upcoming Repo: The Genetic Opera did not go to jail until June 2007, so that wasn't what was keeping her busy at the time.
A rep for Hilton didn't immediately respond to requests for comment.