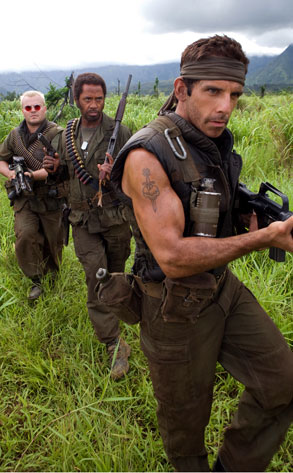 Merie Weismiller Wallac/Dreamworks
What's with movies opening up on Wednesdays? First Pineapple Express and now Tropic Thunder as well.
—Lee
The release date for Tropic Thunder actually was changed before that of Pineapple Express.
According to Chad Hartigan of Exhibitor Relations, movie ticket sales gradually slow down as August progresses. So the Thunder people decided to open a few days earlier, to sell as many tickets as possible among the coveted teen-male crowd before they all started heading back to school.
Then the Pineapple people found out what the Thunder people were planning. Like Thunder, Pineapple is aimed at the teen-male audience. But now it would have only five days in theaters before Thunder moved in. So the Pineapple people, too, moved back their date, Hartigan speculates, so that it could a few more days to itself.
Now, on to more of your Burning Q's!
Do you think that Britney Spears can ever really make a comeback?
—Autumn