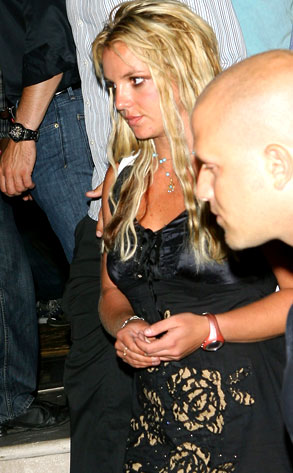 Michael Tran/Getty Images
Brit-Brit made a rare appearance out at family friend and music producer Phil Maloof's pah-tay at his Bev Hills mansh last week. Don't worry about Britters sliding into her old tricks. Not only was daddy Jamie keeping her away from any cocktails, security was keeping almost all the partygoers out—and keeping Britney in. "There were only, like, 15 people in there," said our lucky source who was one of the few holed up in B-girl's VIP hideaway.
"She looked good—not her 2004 kind of body, but she looked good," continued our party-going pal. "She's kind of starting to look how she did in the 'Everytime' video." Ya mean, bored, depressed and about to drown herself in a tub of tears? Not exactly a ringing endorsement of the new Brit whom we've been anxiously awaiting. But how much fun would you be having if you were kept out from all the rich revelry and had to mingle with your dad in tow night after night? Thought so.
Daddy by her side, Spearsy kept it way mellow all night long, staying in her corner and striking up conversation with hard-rock band of the bash, Rev Theory. Maybe they'll influence B-babe's new album? The pop princess did once sing "I Love Rock and Roll"—maybe with an edgier sound that statement might actually make some sense.