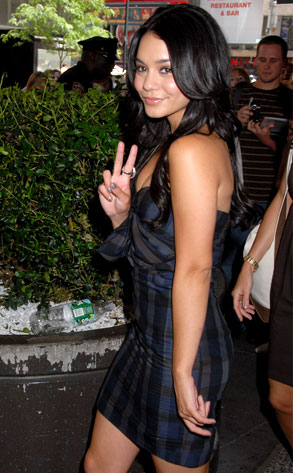 Patricia Schlein/WENN
Vanessa Hudgens is having a lot of trouble losing her old entourage.
For the second time in the past 12 months, the High School Musical star has been sued by a former business associate who says she's been flaky with her royalty payments since giving him the boot. (View the lawsuit.)
Per documents filed Monday in Los Angeles Superior Court, Hudgens entered into a court-approved "production agreement" with Johnny Viera's Johnny on the Spot Productions that required her to share advances, royalties and merchandising revenue (everything, really) in exchange for his career-launching services.
Viera charges that, after Hudgens landed her HSM gig, she dumped her old talent team, including Viera, even after she had presented him with a photograph of her signed, "Johnny, thank you for everything, without you, I would be nowhere. We will make it BIG…Vanessa Hudgens." And at the bottom of the picture, she wrote, "*Sweet!*"
Is nothing sacred these days?