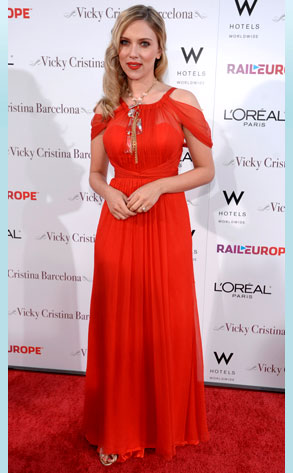 AP Photo / Tammie Arroyo
How do famous design houses manage to hook up celebrities with dresses than are often hideous? Shouldn't they know what looks hot and what doesn't?
— Ryan
Hot is relative, my dear. Look at Jennifer Aniston, poor little spud-faced thing. Eyes like a Siberian husky, she has. And yet some people just adore her looks, and think she's a Greek goddess in the manner of Aphrodite or Persephone. Then there's Sarah Jessica Parker. Someone at Vogue must have thought she was pretty, because they put her on the cover a few months back.
Same deal with designer dresses and accessories. One person's hideous is another person's irresistible. Otherwise, how do we explain ScarJo in that scary red-orange dress on the left that makes her look like a roadside warning cone? Or Jennifer Hudson in that space bolero at the Oscars? We don't. That's how.
But you can't blame only the designer for creating an ugly dress. What about the middlemen? The minions? Find out who the real sinners are when it comes to bad red carpet looks, after the jump.