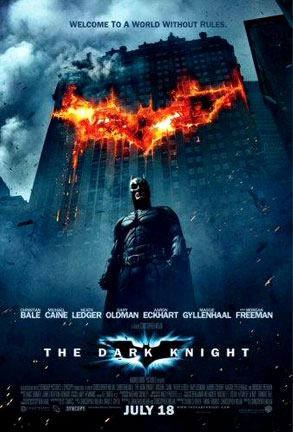 Warner Bros. Pictures
Beware, Lord Vader.
The Dark Knight brought its overall domestic gross to $441.5 million today, per Exhibitor Relations estimates, moving the film to third among the all-time box-office champs, and leaving it perhaps only a week away from trumping Star Wars for second place.
The Batman movie's Friday-Sunday take of $26 million gave the blockbuster its fourth-straight weekend box-office win—a feat not accomplished since Lord of the Rings: Return of the King ruled in 2003-04.
Assuming the studio estimates hold, the weekend gross moved Dark Knight up four spots on the all-time list, as the film bypassed Pirates of the Caribbean: Dead Man's Chest ($423 million), Star Wars: Episode I—The Phantom Menace ($431 million), E.T. ($435 million) and Shrek 2 ($441.2 million).