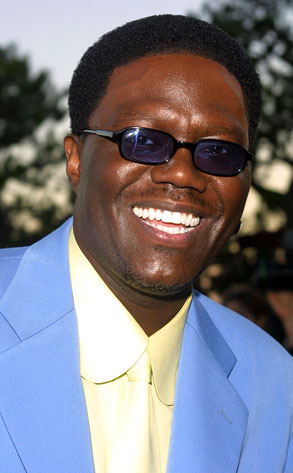 Lisa O'Connor/ZUMAPress.com
Hollywood is waking up this morning to the news that actor/comedian Bernie Mac has passed away at the age of 50 due to complications from pneumonia. As word spreads, tributes are starting to pour in from the funnyman's friends and colleagues.
Fellow actor/comedian Chris Rock issued the following statement to E! News: "Bernie Mac was one of the best and funniest comedians to ever live but that was the second best thing he did. Bernie was one of the greatest friends a person could have. Losing him is like losing 12 people because he absolutely filled up any room he was in. I'm gonna miss the Mac Man."
Carl Reiner, who starred with Mac in all three Oceans 11 movies told E! "It's a tremendous loss because of his age and the fact that he was such a vital original human being. When I use the word 'original' I really mean it. He was like no other person I knew. He lived his life to the fullest even when we were on the set when we did Oceans. He had his own little apartment and he cooked and invited people to lunch everyday and he had food that was for everybody. He made very exotic things. His conversations were always different that any conversations I had with anyone else. They were very family oriented he talked about his wife and children with such love and it's very hard to believe that he's not with us anymore."
Actress/comedienne Niecy Nash, who played Mac's little sister, Benita, on the hit television series The Bernie Mac Show and acted opposite him in the 2005 feature film Guess Who said this about her friend and mentor: "His passing is such a major loss to the acting and comedy communities. Bernie Mac was the personification of the word 'real.' He kept it real. That kind of genuine spirit that he carried all time cannot be easily duplicated, but I will do my very best to try."