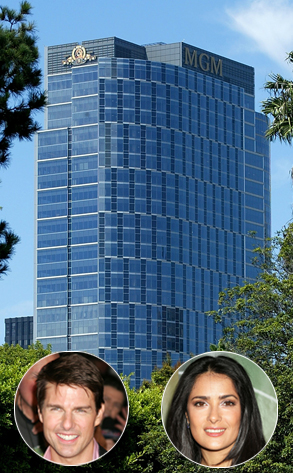 Carlo Allegri/Getty Images/Nancy Kaszerman/ZUMAPress.com
What has more potential explosions than a Tom Cruise movie? A Tom Cruise office building, it turns out.
For the second time this week, Los Angeles' MGM Tower, a professional complex housing the production companies of both Cruise and Salma Hayek, has been hit with a security threat, this time over an anthrax scare.
Sources confirmed exclusively to E! News that a building-wide memo has gone out informing all tenants of an anonymous threat phoned in to the building's main switchboard stating the deadly virus would be placed into the building's ventilation system, starting on the 20th floor.
The Cruise-run studio United Artists is housed on the tower's 11th floor; Hayek's Ventanarosa production company is located on the second.
It was not immediately clear whether either star was at the office building today.