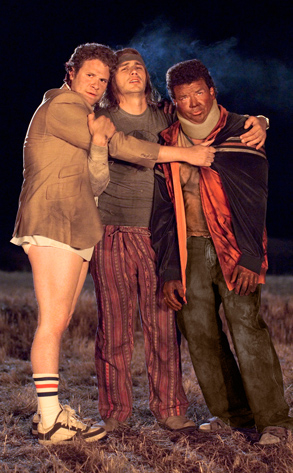 Darren Michaels/Columbia Pictures
Move on over Harold and Kumar. Back over to West Hell-Ay for the Pineapple Express premiere, where all our happy feelings came from the good company alone (though we bet a red carpet walker or two wasn't enjoying as natural a high as us). We got a word in with the ringleader of the comedy circus, Judd Apatow, who produced the stoner flick alongside longtime (and similar looking) pot-partaking pal and leading man Seth Rogen.
"I don't know why it's popular," says J.A. about his recognizable type of immature-meets-mature style of comedy. "I don't want to think about it, otherwise it will all collapse. It's like, don't look at a hot dog too closely, or you'll never eat one again. My career is like a hot dog."
You're giving us the munchies, Judd. But, wait till you hear what Mr. A. has to say 'bout a newer, more homo-friendly James Bond! Much more chewalicious!