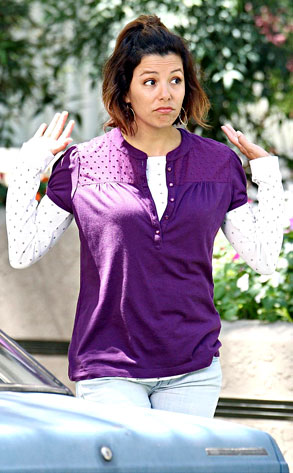 Andrew Shawaf, PacificCoastNews.com
Don't get us wrong: If we were a Desperate Housewife with a blind (and kinda chubby) husband, we might not put as much effort into our appearance as our supermodel days.
But just because Eva Longoria Parker's Gaby is now a caregiver and mom, does she really have to forgo makeup and choose Mossimo over Manolo?
Look, if we wanted to see fugly women on TV, we'd flip over to Bridezillas, whose sloppy stars have moustaches and stuff. And they're not even married yet.
But we tune into D.H. to watch glamorous women lie, cheat, steal and do yoga on their front porch to seduce underage handymen. So really, we don't care if she's frumpy for a reason. Bring back our coutured and made-up Gaby—and for god's sake, give her a blowout—even if it means one of Bree's kids has to run over Carlos.