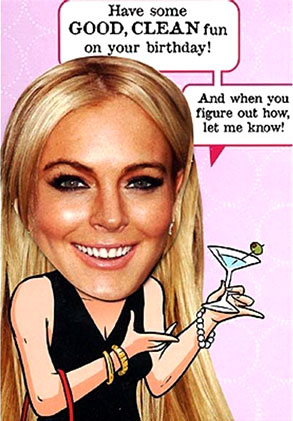 Hallmark
Lindsay Lohan's BFF Samantha Ronson turns 31 today, and if you're still stumped as to what to get her—because we all know she doesn't need another fedora—Hallmark has just come up with a simple solution.
How about giving her this card that takes a dig at her gal-pal's troubled past? Surely she would love it, right? After all, who doesn't want to see someone they care about ridiculed for her indiscretions?
What's more, when it comes time to acknowledge the big day of buddies Brad Pitt, Simon Cowell and Jessica Simpson, the greeting-card giant has equally offensive sentiments for you to pass along to them as well.
So much for caring enough to send the very best.