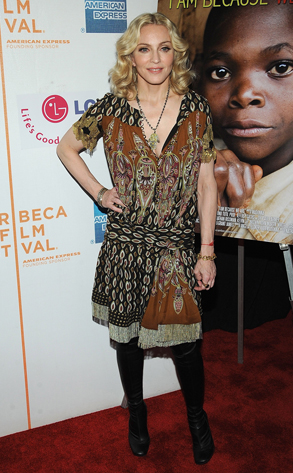 Dimitrios Kambouris/WireImage.com
She might be battling divorce rumors, an A-Rod scandal and a tell-all book by her brother, but maybe, at heart, Madonna's still a small-town girl after all.
The Material Girl returned to her Michigan roots Saturday for a screening of her acclaimed documentary I Am Because We Are at the Traverse City Film Festival.
"You can take the girl out of Michigan, but you can't take the Michigan out of the girl," she told the crowd of 540 people. "There's something poetic about coming back to the place where I used to come for holidays — camping trips with my dad and stepmother and my very large family. It's great bringing my movie to a place that I feel familiar."
Madonna, who was raised in the Detroit suburb of Rochester Hills, did not address any of her recent controverseys in the Q&A session that followed.