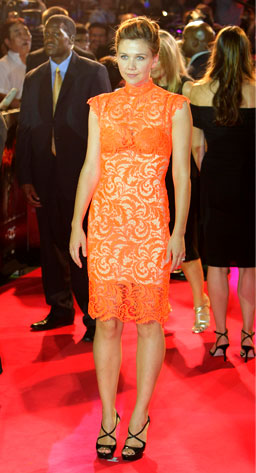 AP Photo/Shizuo Kambayashi
The Dark Knight has got Maggie Gyllenhaal wearing questionable outfits all over the world.
Like this orange lace Jean Paul Gaultier number for the Japanese premiere. It's great to see Mags in some color for a change. But see-through lace is a tough thing to pull off.
After examining several close-ups and multiple angles, we are 95 percent sure she is wearing an orange bra over a nude slip under all that lace, and we are 100 percent sure we don't like it.
Our feelings about Maggie are complicated, because we kinda like the girl, so we often prefer to label her a "fashion eccentric." However, it's entirely possible she's just a straight-up mess.
We've rounded up her latest red carpet looks in a special Fashion Spotlight gallery so that you can expertly weigh in on whether her tastes are charmingly eccentric or woefully misguided.