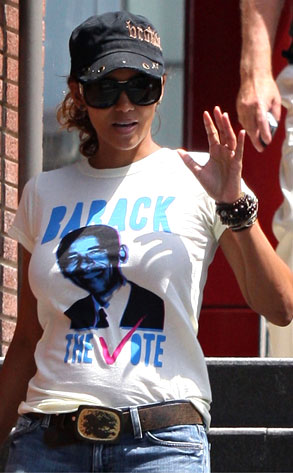 ODuran/Fame Pictures
Halle Berry gave Barack Obama some valuable advertising space Tuesday, sporting his mug on her T-shirt while shopping at the Century City mall.
It's the second time she's pledged her politics on the fashion front. And she's not the only one—several stars are supporting Obama stylewise. Though just how long until someone slaps his name across their sweat-suited behind, à la Juicy, we wonder?
Meanwhile his wife, Michelle, has been dubbed Mrs. Glambama by the glitterati and already made Vanity Fair's International Best-Dressed List.
And while we're not naive enough to think this sartorial synergy could win an election (Obama's already been negatively compared to Paris and Britney—though we fail to see how that's a problem), when it comes to the best-dressed list, you know who's coming out on top.