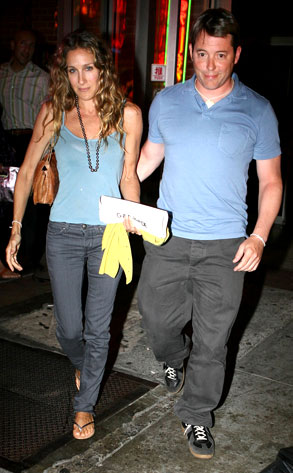 INFdaily.com
Ever since Justin Timberlake and Britney Spears stepped out on the red carpet in matching denim love outfits (see it after the jump) at the height of their tumultuous affair, Hollywood couples everywhere have followed suit.
Like twinsies Sarah Jessica Parker and Matthew Broderick, who were spotted out last night in New York City looking happy despite the pesky rumors going around. (Side question: WTF is Matt wearing around his neck?)
It seems nothing says "our marriage is totally fine despite what you gossipers out there might be saying" like matching denim. Well, actually, a Mariah Carey-Nick Cannon falling-all-over-each-other photo op would probably also get the job done.