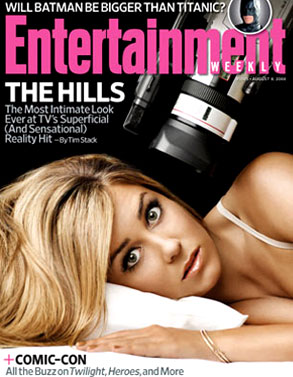 Entertainment Weekly
Is it possible there's more to the The Hills than meaningful stares over cocktails, clubbing at L.A.'s hottest spots and staged Speidi fights?
Entertainment Weekly tries to add some sort of depth to the show in this week's cover story about the peachy life of millionaire/earthquake survivor Lauren Conrad now that we're all addicted to her little personal dramas.
Of course there is the obvious comparison of L.C. being "a West Coast reincarnation of Carrie Bradshaw (if Carrie were a millionaire)." Fair enough—the show does feature four girls with no real jobs who lunch, go out for drinks and talk about boys.
It's the comparison of the show to the novels of Charles Dickens that seems a bit off...