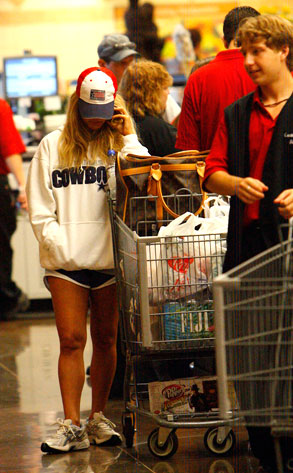 PhamousFotos / Splash News
Why are celebs allowed to bring their little dogs everywhere and normal people aren't? I just saw a picture of Jessica Simpson with her dog at Ralphs!
—F.S.
Well, if I told you that Jessica Simpson's Maltipoo was the world's smallest, curliest Seeing Eye dog, would you believe me? No? God, you're jaded.
"We allow only Seeing Eye dogs in our stores," Ralphs spokesman Terry O'Neill told this B!tch. "Otherwise, no dogs. It's a [city] health department issue."
So. There you have it. Daisy must be a Seeing Eye dog! A very decorative Seeing Eye dog. That happens to fit inside a Louis Vuitton carryall bag. And on that Vuitton bag is a tag with the words "Daisy, the Seeing Eye dog." That tag is invisible to all but C-list has-been reality stars, but it's there, all right.
Still not satisfied? Read an alternative explanation after the jump.