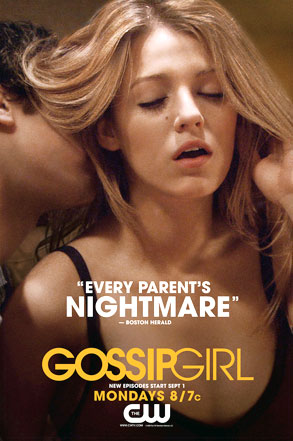 The CW
Gossip Girl's lusty marketing minds have rolled out another series of steamy promos for the teen drama, this time craftily spotlighting nuggets of "praise" from the Parents Television Council ("Mind-Blowingly Inappropriate"), the Boston Herald ("Every Parent's Nightmare") and other outlets.
As with the show's other recent foray into shock-and-awe advertising, the campaign—meant to appeal to both our basest and our brightest (as in, our satire-appreciating) instincts—certainly fares well. And it obviously achieves the CW's No. 1 objective, which is to create buzz.
Admittedly, Serena, Blair, Nate and the rest are all played by fresh-faced 20-and-aboves (albeit none of whom would ever admit to having had as much sex in high school as their upper-crust characters) and none of the new spots proclaim "OMFG" but...
It's still a bunch of teens doin' it! Or about to do it. Or very obviously thinking about doin' it.
Check out just how far we've come from Brenda and Dylan's tender moment at the spring dance after the jump...