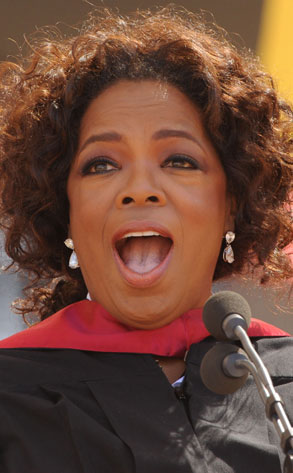 AP Photo/Ron Lewis
Why do universities think students want to hear celebrities make commencement speeches? And do the stars get paid?
—Denise, Boston
If you're asking how much Oprah got for that commencement chat she just gave at Stanford, the answer is $5,000—about enough, I would imagine, to pay for half a tassel in her cream-and-gold-brocade sky palace.
Harvard, which recently recruited J.K. Rowling to speak, says it didn't pay her anything—and not because, as you might suspect, she made Ron marry Hermione. (I personally would have paid Rowling 50 bucks just to see Draco tap that.) A spokesman tells me the university never pays its commencement speakers.
Other schools do, though. And just how much may surprise you, so keep reading...