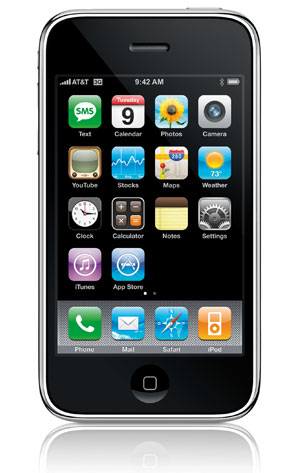 Apple
In a laser beam and strobe-lit Fanatsticon held somewhere on the internet, Apple Computers & Pantwear unveiled its plans to render obsolete its very popular iPhone by adding a number and letter to the end of its name.
The iPhone 3G—we're still not sure what either the 3 or the G stand for and Steve Jobs refuses to be part of our Friends & Family calling network—boasts a panoply of new features. Most notoriously, the 3G contains an on-board GPS system so that when you lose your new phone the day after you buy it, at least it will know where it is. Also, the new-fangled doo-hickey will be able to access Internet data twice as fast as the antique contraption. A function which enables the owner to annoy every other passenger on the bus twice as much per trip.
While those two improvements are gaining the most press, The Soup Blog was able, via our deep undercover reporting (e.g., lying), to uncover some further Unreported Features of the New iPhone 3G.