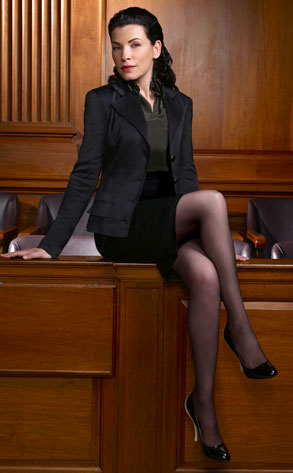 mirana Penn Turin/FOX
Evening, tubers! Tonight we welcome Julianna Margulies back to TV. Whee! Her Canterbury's Law premieres at 8 p.m. on Fox, and it features an all-new Julianna.
Her character, Elizabeth Canterbury, is a chilly, aggressive and amoral attorney, like Glenn Close's Patty Hewes on Damages or Tilda Swinton's Karen Crowder from Michael Clayton. Elizabeth, however, sets herself apart from everyone short of Jack McCoy in that she absolutely owns the courtroom. Litigation is her métier, and I quite liked watching her eat the opposition for breakfast, lunch and dinner. Canterbury's professional success, however, is leavened by personal tragedy: Her six-year-old son has been missing for many months now, and Elizabeth is still coming to terms with the loss. Okay, so Law isn't a barrel of monkeys, but it is smart and sophisticated.
When you see it, let me know your thoughts in the poll below and then sound off in Comments.