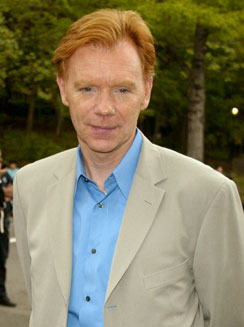 Jim Spellman/WireImage.com
*Check for more updates after the jump*
Yay! It's Fox time, and Blake Lewis is on the stage beat-boxing with some of his buddies about...CBS?! Oh, wait, sorry, that's not Blake, and this is not Fox. There's just some beat-box band with a Blake look-alike who is thanking us in song for being here with CBS at the network's Carnegie Hall upfront presentation. Whoo! I've got my Crackberry blazing and will be giving you the play by play.
I just met up with the stars of CBS' new shows for some interview fun times (coming soon to a Vine video clip box near you), and I have this important (spoilerish or foilerish) fact to tell you: Nestor Carbonell of Lost is here for a new show, Cane, so his character certainly looks to be doomed. (I also asked whether he wears eyeliner, because many of you asked and I am here to serve and I have no shame.)
Yes! David Caruso (make)fun(of him)nyness! CBS honcho Les Moonves is airing that clip of David Caruso's endless one-liners from YouTube. Genius. But isn't this a drinking game? Where's my Scotch?
More coming...