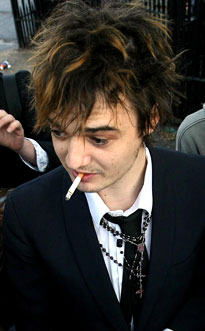 Press Association via AP Images
UPDATE: Hours after the arrest warrant was issued, Pete Doherty's rep announced that it has been revoked and that a new hearing has been scheduled for July 24.
"The matter has been resolved, and the warrant has been withdrawn," the spokesman told NME.com.
As for whether Doherty will get a stricter punishment for skipping a hearing, it remains to be seen.
"It's not appropriate for me to speculate," a court spokesperson said. "It is for the magistrates to consider, but they will take it into account."
__________________________________
Pete Doherty's Teflon luck may have finally run out.
Judges at Somerset's Yeovil Magistrate Court in the U.K. have issued an arrest warrant for the Babyshambles frontman after the trouble-prone rocker failed to show up at a hearing for a second time.