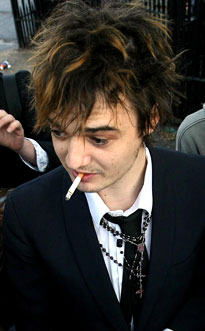 Press Association via AP Images
Pete Doherty was left to go it alone tonight.
Hours after his band Babyshambles decided to skip their Friday night appearance at Britain's Glastonbury Festival, the troubled rocker took the stage alone at midnight, putting to rest reports that Doherty was ready to pack it in in 2008.
The unexpected acoustic solo performance occurred a night after Babyshambles canceled their Thursday show at Norway's Hove Festival.