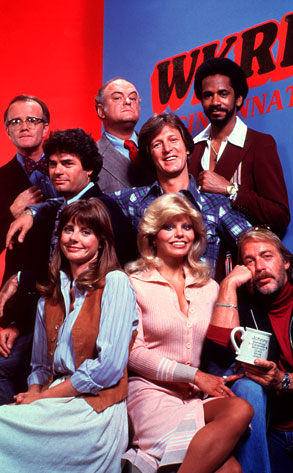 CBS/mptv.net
Maybe you know turkeys can't fly. But Mr. Carlson...Well, he didn't.
WKRP in Cincinnati's "Turkeys Away," maybe the funniest and, in terms of sheer bird casualties, deadliest holiday-themed TV episode of all time, was written by Bill Dial. (View the entire episode at fancast.com.)
Dial died June 2 at his home in South Carolina, various sources, including WKRP's "hometown" newspaper, the Cincinnati Enquirer, reported this week. He was 66.
Dial acted in, as well as helped write the 1978-82 sitcom. (He popped up a couple of times as station engineer Bucky Dornster.) Later, he coexecutive produced the Jerry O'Connell sci-fi series Sliders and scripted episodes of Star Trek: Voyager and Star Trek: Deep Space Nine.
But it is for dreaming up one, fatally flawed publicity stunt that Dial will be best remembered. Certainly, Mr. Carlson never forgot.