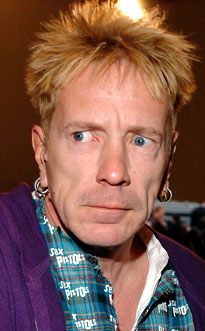 Rabbani and Solimene Photography/WireImage.com
Is Johnny a Rotten excuse for a gentleman?
A former reality TV show producer has sued the Sex Pistols frontman for assault and battery, claiming he slugged her in the face because he was unhappy with the Los Angeles hotel room she secured for him during a shoot last year.
She is also suing the company she was working for at the time, Bodog Music Ltd., contending her bosses ignored her concerns when she complained about Rotten's behavior.
According to the complaint filed Wednesday in L.A. Superior Court, Roxane Davis was working on the Fuse Television Network series Bodog Battle of the Bands, on which Rotten served as a judge, when her unpleasant, profanity-laced encounter with the punk rock icon occurred.