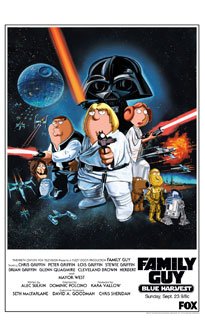 FOX
Stewie Griffin's latest scheme? Total Emmy domination.
The braintrust behind TV's Family Guy has put up the notoriously evil baby genius and the rest of the Griffin clan in not one, but two categories this season, as part of a novel bid to earn recognition for the half-hour 'toon's writing and animation squads.
Mastermind Seth MacFarlane and his merry band of producers for the first time submitted Family Guy in the live-action, half-hour comedy category, setting up a potential showdown with the likes of The Office and My Name Is Earl.