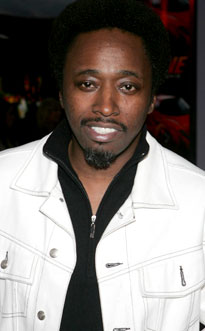 Maury Phillips/WireImage.com
To quote his big-screen alter ego in Undercover Brother, this is one of them funky times.
A former production manager is suing Eddie Griffin, accusing the funnyman of a drunken assault while working on a TV pilot in March.
The lawsuit was filed today in Los Angeles County Superior Court against Griffin and the Leslie Greif Company by Vince Beane, who worked on a VH1 reality series tentatively titled The Eddie Griffin Project. (View the court docs.)
The plaintiff claims that on March 10 the comic actor wrongfully accused Beane of slighting Griffin's mother by "treating her, like a slave nigga" or a "ghetto Momma on junior prom night just waiting to get slammed" because, per producers orders, he booked her and Griffin into a "cheap three-star hotel."
Beane's complaint accuses the production company of plying the erstwhile Malcolm & Eddie star and others with more than six bottles of Veuve Clicquot Champagne, which purportedly caused Griffin to go off on Beane, grabbing him by the collar and smacking him around for failing to find better accommodations.
"That was for my Momma…she ain't no nappy-headed ho," Griffin is quoted as saying in the court documents.
For his part, Griffin's rep called Beane's allegations "completely absurd" and "without merit."