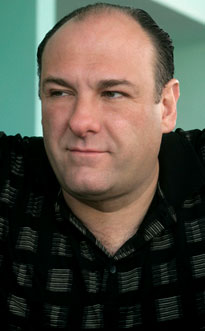 Craig Blankenhorn/HBO
Tony Soprano's finest polyester attire is going once, going twice, going bada-boom.
James Gandolfini is auctioning off 24 outfits worn in character on The Sopranos, with all proceeds benefiting the Wounded Warrior Project, which assists severely wounded soldiers in Iraq and Afghanistan.
Among the fashion-forward items set to be bid on at the Christie's auction, all of which were personally donated and authenticated by Gandolfini, are the button-down blue shirt the don donned in the HBO hit's opening credits, the tan bathrobe with lavender trim and "S" insignia Tony wore to fetch his morning paper and feed his ducks in the pilot episode, and the pièce de résistance, the blood-spattered black and beige polo shirt, white tank top and black pants Tony wore while being shot by Uncle Junior.
The latter outfit is expected to raise a cool $3,000 for charity, while the entire wardrobe, which goes on sale June 25, could fetch upwards of $36,500 if buyers prove particularly eager.
Here's hoping for a mob mentality.