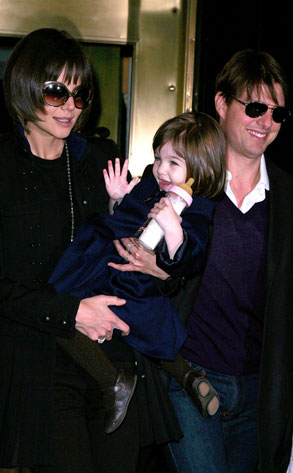 James Devaney/WireImage.com
Tom Cruise and Katie Holmes have probably developed pretty thick skins over the past couple years. But there's still a big soft spot when it comes to Suri.
The couple's attorney sent a cease-and-desist threat to the owner of Petit Tresor, a top-of-the-line baby boutique with two L.A. locations, for allegedly feeding the tabloids bogus info about TomKat's spending habits.
In his letter to owner Samantha Winch, dated May 12, legal eagle Aaron J. Moss accuses store reps of both violating their clients' privacy and passing along "simply false" details—namely, that Holmes and Cruise dropped between $350,000 and $400,000 in their stores—to Life & Style magazine "for the purpose of enhancing [the store's] image and obtaining a commercial advantage."
Other gossip rags have been told about purchases and visits that were never made to Petit Tresor, as well, Moss alleges.
Meanwhile, the outfit's public relations spokesman Andy Behrman wrote in an email to E! News that they were asked by a reporter for an estimation of how much the Cruises have spent on gear for Suri, but they "never mentioned that this $350-$400K figure included anything purchased at Petit Tresor."
Cruise's camp doesn't think too much of this recollection, however.