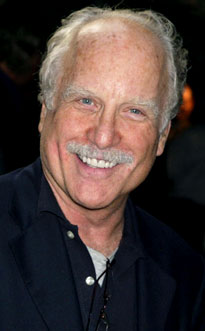 Nancy Kaszerman/ZUMAPress.com
Richard Dreyfuss is winging it...West Winging it, to be exact.
The Oscar winner is in final negotiations to play Vice President Dick Cheney in Oliver Stone's latest political film opus, W, chronicling the ups and downs—though probably mostly downs—of the current administration.
Already on board the sure-to-be controversial film is Josh Brolin, who will play George W. Bush, Elizabeth Banks as first lady Laura Bush, Ellen Burstyn as Barbara Bush, James Cromwell as George H.W. Bush, Ioan Gruffudd as Tony Blair and Thandie Newton as Condoleeza Rice.
The film begins shooting this month in Shreveport, La., and is set for release Oct. 17 in anticipation of Election Day. The DVD also has a release date set for January, the date Bush will leave office.
Timing is everything.