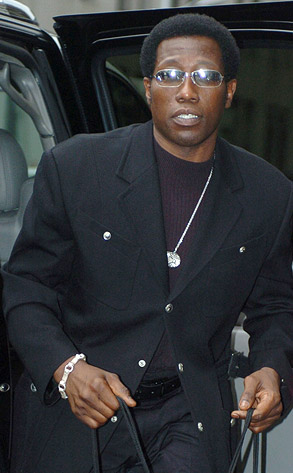 Jamie McCarthy/WireImage.com
Turns out, the blade of the federal justice system is just as sharp as that of the IRS.
Wesley Snipes has been given until June 3 to surrender to prison authorities to begin serving his three-year sentence stemming from his conviction on misdemeanor tax fraud charges.
The date was revealed in court papers filed this week by Snipes' defense lawyer Daniel Meachum, who is seeking to obtain an appellate bond for the star. If successful in his bid, the bond would keep the actor out of prison until a higher appeals court has the chance to review the defense's objections to the lengthy sentence.
If it's unsuccessful, D-day for the Demolition Man still stands.
In their court filing, Snipes' attorneys said they will seek an appeal on the grounds that the presiding judge, U.S. District Judge William Terrell Hodges, gave bad instructions to the convicting jury and denied them an extended pretrial hearing.
Prosecutors, meanwhile, oppose the appeal and say the 45-year-old, who produced $5 million more in liquid assets than he led the government to believe he had last month, has already proven himself to be a flight risk.